Yoshimura RS-12 Full System (S.Steel/Alu/Carbon Cap) Yamaha YZ450F 20-22
Yoshimura RS-12 Full Exhaust System (S.Steel/Alu/Carbon Cap) Yamaha YZ450F 20-22
Yamaha' s YZ450F is one the bikes that seems to win the accolades of media testers of almost every level. We set out to make an even better experience with big blue.
It's no secret that the YZ450F has tons of power and torque, so we focused on smoothing the transition of both. Our new RS-12 responded perfectly, maximizing mid / top power and torque to boot! With the power transition smoothed out the YZ450F has more connectivity to the dirt, enabling you to focus on other things...like winning!
Available in durable stainless steel with an iconic aluminum muffler, our new RS-12 Signature Series exhaust system is the best exhaust system for the YZ450F hands down.
NEW YZ250F RS-12 Features and benefits
Aggressive intelligently designed, the RS-12 asymmetrical shaped muffler allows maximize capacity and incorporates a resonance chamber for managing sound and increasing usable power. RS-12's unique profile also provides more clearance for tire and brake caliper.

Tapered muffler body inlet design of RS-12 enables the system to be pushed forward thus helping with weight centralization without sacrificing performance.

Improved performance gains with refined power delivery.

Just like the works systems our Factory Racers use, RS-12 systems utilize precision machined joints. Machined joints provide a superior and exacting fit for joints by better securing the seal between two surfaces with a perfect 360 degree contact surface which translates into improved system life, fit and performance.

New patent pending Precision Taper Fit (PTF) insert ring makes it easy to install and remove sound inserts and spark arresters.

Works-look matte carbon fiber end cap with industry leading design, innovation and detailing as expected from Yoshimura.

Carbon end cap covers the RS-12 inner cap, thus improving looks, while providing easier service as compared to other sandwich mounting designs most commonly found in the industry.

Proudly designed, developed and made in the USA!

Repack Kits, optional Inserts and Spark Arresters are available for all models
SIGNATURE SERIES EXHAUST SYSTEM
Introducing Signature Series by Yoshimura - an offering of exhaust systems that a dealer can install with confidence. Our Signature Series lineup is the answer for today's dealer who is faced with a challenging marketplace. The applications for the Signature Series line cover the entire powersports spectrum, including many of our off-road applications. Everyone of our Championship Winning Motocross exhaust systems and nearly all of out ATV/Side-by-Side applications are all members of the Signature Series Family. All Signature Series components are tested, documented, and marked as required by federal and state regulations.
VEHICLE FITMENT
Yamaha YZ450F 2020

Yamaha YZ450F 2021

Yamaha YZ450F 2022
Recommend this product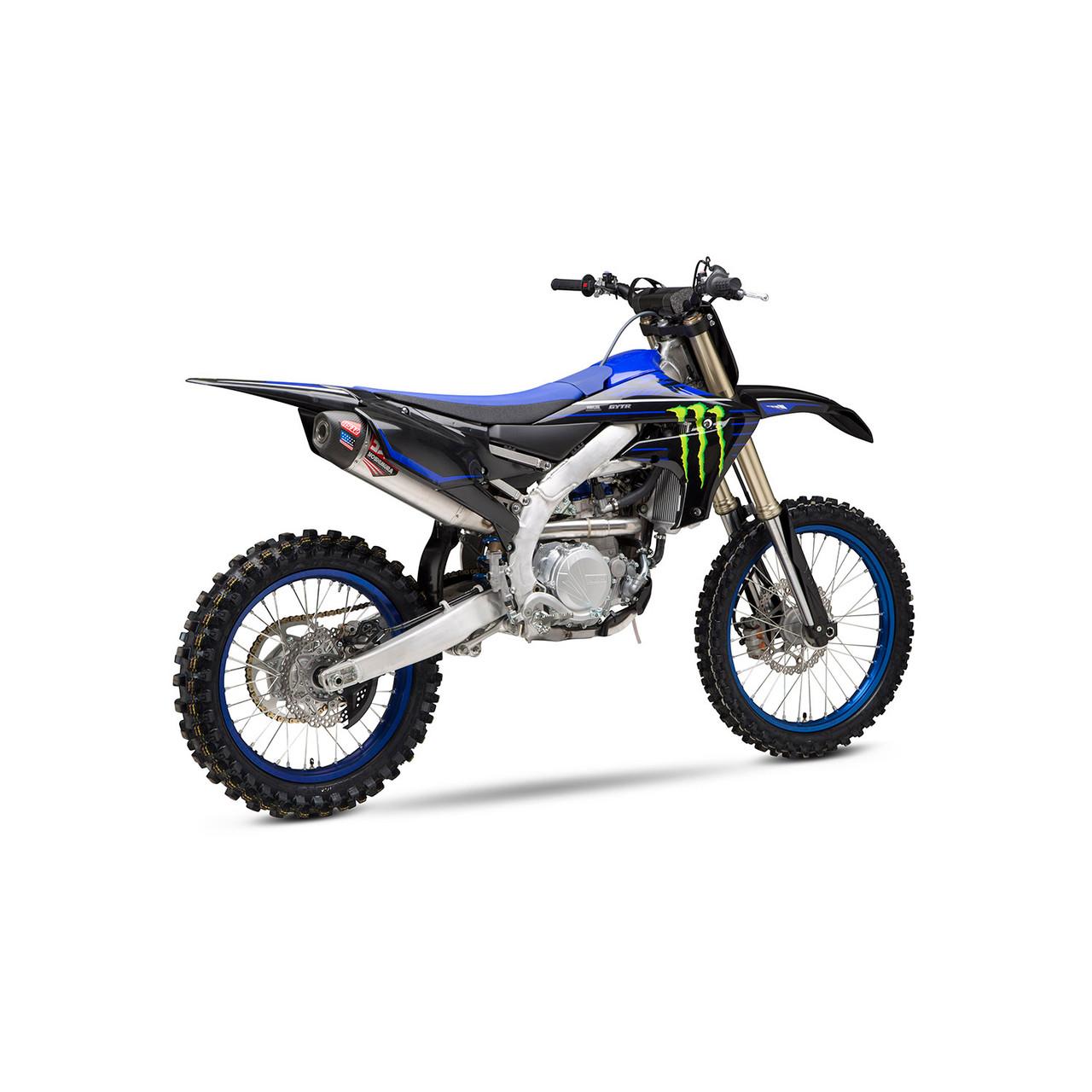 Yoshimura RS-12 Full System (S.Steel/Alu/Carbon Cap) Yamaha YZ450F 20-22